Introducing our new Upside Pay program for ATS Flatbed Specialized and Van Pad Wrap Company Drivers! As an ATS Flatbed Specialized and Van Pad Wrap Company Driver, you earn CPM or percentage of Transportation Revenue — whatever pays you the most. The best part is you don't have to choose! You will automatically get paid whatever earns you the most money on each and every load.
During our program testing, Company Drivers earned an average of 65 cents per mile! With Upside Pay, there's no downside.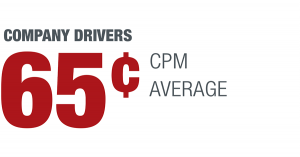 COMPANY DRIVERS ENJOY THESE GREAT BENEFITS
NEW! Upside Pay program: 23% or CPM - whatever earns you more! Average 65¢ CPM!
Top Pay carrier
Per diem at no cost to Driver
GUARANTEED hometime every two weeks when requested
Health, dental, vision and life insurance
Disability insurance
401k/Profit Sharing Plan with company match
Paid vacation
Drop, pick up and stop pay
Loading/Unloading Pay
Layover and Breakdown Pay
100 percent Electronic Logging Devices (ELD) since 2009
100 percent Auxiliary Power Units (APU) and inverters
Flights/car rentals, lodging for Driver and spouse and all meals for orientation paid
Fill Out A Quick App
Still have a few questions? Fill out this quick form and an ATS recruiter will contact you.